Netgear Vlan switch config guide
Netgear Vlan switch config guide:
it is seeing as the netgear smart VLAN Swithes are good choice for home/small office use, i have a Netgear GS108T 8 port Smart switch which supportS VLANs AND gigE. All of their smart models are probably similar to configure.
IP-Address: Switich default ip address is 192.168.0.239. if its doesnot match your network use static ip address.
Step#1 In the switch configuration, go to (Switching--> VLANs---> VLAN Configuration ) make sure your are using 802.1Q, not Port-based VLANs.
Step#2 Configure all 3 Steps of the VLAN configuration section ( eg. VLAN Configuration, VLAN Membership, port PVID confi)
Step#3 Make any port as a default port (eg. make port#1 as default port).
Step#4 Make sure the firewall is the Trunk for All VLANs you are using (eg. you created 4Vlans, Each VLANs Mamebership has Trunk for the Traffic root ).
Step#5 Create VLAN ID and VLAN Name in VLAN configuration section (eg. VLANID 10, VLAN Name Management )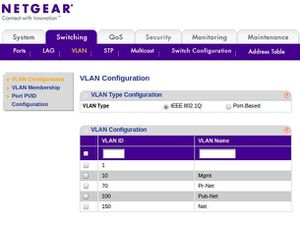 Step#6 On the VLAN Membership section, Make a member to each VLAN Untag (U) each port that is part of that VLAN and Trunk (T) the firewall port. (eg. port 03 and 04 are member of each one).
Step#7 From the port PVID part, set the PVID (VLANID) for each port.